The following books and CD's are highly recommended.
Superfoods are known for their extraordinary health and healing properties. Among all the superfoods, there is one that stands head and shoulders above the rest, and that is coconut, and more specifically, coconut oil.
Coconut oil contains the highest natural source of medium chain fatty acids—a unique type of fat with remarkable health-promoting properties. These special fatty acids are crucial for achieving optimal health and make coconut oil not just a health food, but a super health food. Some superfoods get their reputation because they have anti-cancer properties or can stabilize blood sugar. Others have been shown to reduce the risk of heart disease or Alzheimer's or improve digestive function and protect against inflammatory conditions such as arthritis or inflammatory bowel disease. Coconut oil can do all these things plus much, much more.
In fact, coconut oil can do more for your health than the next ten leading superfoods combined. For this reason, it can rightfully claim the title as the world's most powerful superfood. This isn't an empty claim. This is what the science shows. All of the health-promoting properties of coconut oil described in this book are documented by published medical research. Once you see the evidence yourself, you will agree that coconut oil is nature's premier superfood. more
_____________________________
A Sustainable Natural Resource that Saves Lives and Protects the Environment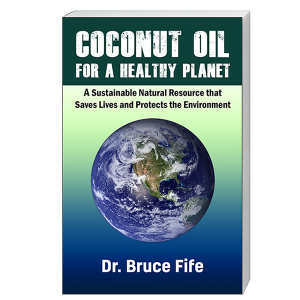 The coconut palm is said to have a thousand uses. It provides island populations virtually everything they need to sustain life from food and medicine to building materials and clothing. Of all the products produced from the coconut palm, the oil is perhaps the most versatile and the most valuable.
The oil is used for food, medicine, and numerous industrial purposes. It makes an excellent cooking oil with medicinal properties equivalent to that of dozens of medications, without any adverse side effects. Coconut oil is a renewable natural resource that is far healthier and environmentally friendly than other vegetable oils.
Coconut oil is suitable for many industrial uses and can be used to make environmentally safe soaps, lubricants, and fuel. It is the only vegetable oil that can power diesel engines without any modification and produces as much as 99 percent less pollution than petroleum-based fuels. In addition, coconut oil provides an alternative to products that are contaminating the environment, destroying coral reefs and tropical rain forests, and contributing to the loss of endangered wildlife.
Because of its numerous uses, it is providing a reliable source of income to many populations that are economically disadvantaged. This book describes many of the advantages coconut oil has over other edible oils and industrial products and how its use can promote better health for us and for the planet. more
_____________________________
How to Optimize the Ketogenic Diet and Avoid Common Mistakes
 Keto cycling is the most powerful, most effective, and most efficient tool for overcoming chronic disease and restoring health. Keto cycling is a method of going in and out of ketosis—a metabolic state in which the body runs on fat. It is absolutely the easiest and most efficient method for losing excess body fat and achieving your optimal weight. Low-fat, calorie-restricted diets are gruelingly difficult because you feel continually hungry and deprived; the keto approach is comparatively easy. The food is delicious and your hunger is depressed, so you can eat to your satisfaction and still lose the weight without the pain.
All of the common health markers that doctors measure when evaluating a patient's health, such as blood pressure, blood sugar, triglycerides, HDL, and systemic inflammation, are improved when a person goes keto. It is like hitting the reset button on your computer—all of the garbage is deleted and you are returned to the original properly working starting position before the errors began to creep in. Health problems are wiped away and you get a fresh start. Hormones are rebalanced, proper digestion is restored, energy levels improve, and blood chemistry improves; you sleep better, think better, and function better. It is literally an anti-aging diet. All of these results have been documented in published medical and nutritional studies.
Unfortunately, information about how to do the ketogenic diet is awash in myths, misinformation, and misconceptions that are perpetuated on the internet, in books, and in the news media. Many people are confused, and consequently do not follow the diet properly, leading to unsatisfactory results. more
_____________________________
The Cause of and Cure for Cardiovascular Disease, Diabetes, Obesity, and Other Metabolic Disorders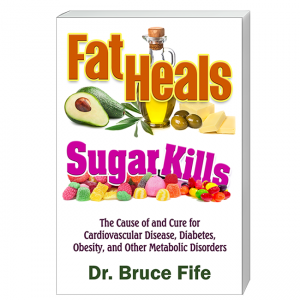 By Dr. Bruce Fife
For decades we've been avoiding fat like the plague, eating low-fat this, nonfat that, choosing egg whites over yolks, and trimming every morsel of fat from our meat in order to comply with the generally accepted recommendation to reduce our fat intake.
As a whole, we have succeeded in reducing our total fat intake and replacing it with more so-called healthy carbohydrates—mostly in the form of refined grains and sugar. What has been the consequence? Obesity is at an all-time high. Diabetes and metabolic disorders have increased to epidemic proportions. Heart disease is still our number one killer. We have dutifully followed the advice of the "experts" and as a result, are sicker now more than ever before.
What went wrong? You can give thanks to the sugar industry. Through clever marketing, misdirection, flawed science, and powerful lobbying, the sugar industry has succeeded in diverting attention away from themselves and putting the blame for our ill health on fat, particularly saturated fat. We fell for it hook, line, and sinker.
Replacing fat with refined carbohydrates was the worse dietary blunder of the twentieth century. . . more
______________________________
The Ketogenic Cleanse and Anti-Aging Diet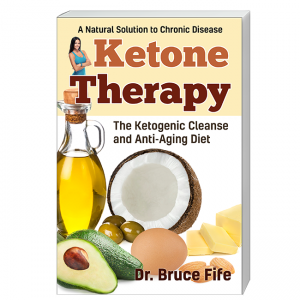 By Bruce Fife, N.D.
The ketogenic diet is one that is very low in carbohydrate, high in fat, with moderate protein. This diet shifts the body into a natural, healthy metabolic state known as nutritional ketosis.
In ketosis the body uses fat as its primary source of energy instead of glucose. Some of this fat is converted into an alternative form of fuel called ketones. Ketones are high-potency fuel that boost energy and cellular efficiency and activates special enzymes that regulate cell survival, repair, and growth. When a person is in nutritional ketosis, blood levels of ketones are elevated to therapeutic levels. In response, high blood pressure drops, cholesterol levels improve, inflammation is reduced, blood sugar levels normalize, and overall health improves.
Low-fat diets have been heavily promoted for the past several decades as the answer to obesity and chronic disease. However, we are fatter and sicker now more than ever before. Obviously, the low-fat approach has not worked. Our bodies actually need . . . more
______________________________
______________________________
______________________________
______________________________
______________________________
______________________________
______________________________
______________________________
______________________________
______________________________
______________________________
______________________________
______________________________
______________________________
______________________________
______________________________