The following books and CD's are highly recommended.
The Ketogenic Cleanse and Anti-Aging Diet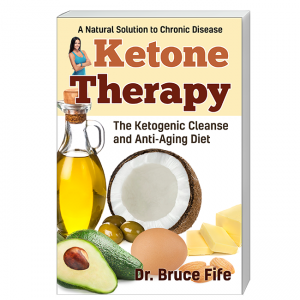 By Bruce Fife, N.D.
The ketogenic diet is one that is very low in carbohydrate, high in fat, with moderate protein. This diet shifts the body into a natural, healthy metabolic state known as nutritional ketosis.
In ketosis the body uses fat as its primary source of energy instead of glucose. Some of this fat is converted into an alternative form of fuel called ketones. Ketones are high-potency fuel that boost energy and cellular efficiency and activates special enzymes that regulate cell survival, repair, and growth. When a person is in nutritional ketosis, blood levels of ketones are elevated to therapeutic levels. In response, high blood pressure drops, cholesterol levels improve, inflammation is reduced, blood sugar levels normalize, and overall health improves.
Low-fat diets have been heavily promoted for the past several decades as the answer to obesity and chronic disease. However, we are fatter and sicker now more than ever before. Obviously, the low-fat approach has not worked. Our bodies actually need . . . more
---
---
---
---
---
---
---
---
---
---
---
---
---
---
---
---
---
---
---