The following books and CD's are highly recommended.
The Cause of and Cure for Cardiovascular Disease, Diabetes, Obesity, and Other Metabolic Disorders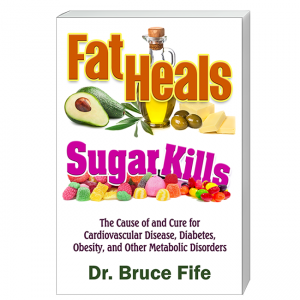 By Dr. Bruce Fife
For decades we've been avoiding fat like the plague, eating low-fat this, nonfat that, choosing egg whites over yolks, and trimming every morsel of fat from our meat in order to comply with the generally accepted recommendation to reduce our fat intake.
As a whole, we have succeeded in reducing our total fat intake and replacing it with more so-called healthy carbohydrates—mostly in the form of refined grains and sugar. What has been the consequence? Obesity is at an all-time high. Diabetes and metabolic disorders have increased to epidemic proportions. Heart disease is still our number one killer. We have dutifully followed the advice of the "experts" and as a result, are sicker now more than ever before.
What went wrong? You can give thanks to the sugar industry. Through clever marketing, misdirection, flawed science, and powerful lobbying, the sugar industry has succeeded in diverting attention away from themselves and putting the blame for our ill health on fat, particularly saturated fat. We fell for it hook, line, and sinker.
Replacing fat with refined carbohydrates was the worse dietary blunder of the twentieth century. . . more
______________________________
The Ketogenic Cleanse and Anti-Aging Diet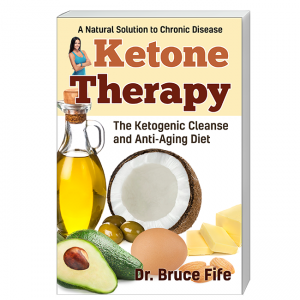 By Bruce Fife, N.D.
The ketogenic diet is one that is very low in carbohydrate, high in fat, with moderate protein. This diet shifts the body into a natural, healthy metabolic state known as nutritional ketosis.
In ketosis the body uses fat as its primary source of energy instead of glucose. Some of this fat is converted into an alternative form of fuel called ketones. Ketones are high-potency fuel that boost energy and cellular efficiency and activates special enzymes that regulate cell survival, repair, and growth. When a person is in nutritional ketosis, blood levels of ketones are elevated to therapeutic levels. In response, high blood pressure drops, cholesterol levels improve, inflammation is reduced, blood sugar levels normalize, and overall health improves.
Low-fat diets have been heavily promoted for the past several decades as the answer to obesity and chronic disease. However, we are fatter and sicker now more than ever before. Obviously, the low-fat approach has not worked. Our bodies actually need . . . more
______________________________
______________________________
______________________________
______________________________
______________________________
______________________________
______________________________
______________________________
______________________________
______________________________
______________________________
______________________________
______________________________
______________________________
______________________________
______________________________